Spin a Win is one of the most unusual takes on Roulette wheels you will ever encounter.
The traditional roulette wheel is black and red, where this one is festively coloured in bright red, yellow, blue, green and orange.

The number and colour break-up are what makes this a different kind of Roulette game, The numbers are broken up into various coloured sections - Red is 1 – 7, Green is 8 – 13, Blue is 14 – 18, Yellow is 19 – 22, Orange is 23 and 24.
A soft fanfare accompanies every win, while the wheel spinning sounds just like a roulette wheel does.

The idea is to predict which number the wheel will stop on. The wager amount ranges from 10p to £100, and you can bet on multiple options.
Clicking on the bet areas increases your wager amount. Each bet has a different pay out that is written on the corresponding bet area. Your total wager amount is displayed on the lower right corner of the screen.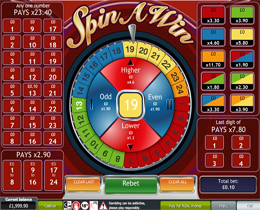 Spin A Win Screenshot - Playtech Slot
Spin a Win offers multiple betting options, starting with any 'One Number' (exact number the wheel will stop on). 'Range' which is located on the lower left corner of the screen will allow you to bet on three ranges - 1 - 8, 9 - 16, or 17 - 24. You win, if the wheel stops on a number that is located within the range you bet on. The 'Colours' option allows you to bet on one or two colours. You win if the wheel stops on that colour.
The 'Last Digit' wins you money if the wheel stops on the chosen number ending with that digit. For instance, betting on 2 will win if the spin result is 2, 12 or 22. You could also choose to place a wager on the Odd/Even or Higher/Lower.

Click on 'Spin' post selecting the wager options and amounts. Once the wheel stops, you will know whether you have won and also how much you have won.
Play Spin A Win Slot at the Following Playtech Casinos:
Titan Casino | Europa Casino | William Hill
Similar Slots:
Cash Splash Slot